CSUB Special Education Programs Offering New Residencies
Apr 28, 2022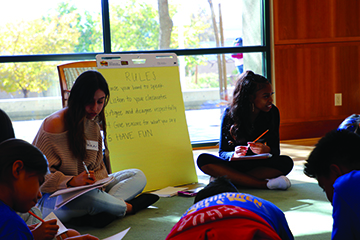 California State University, Bakersfield (CSUB) will offer one-year residency programs for special education teachers to get hands-on classroom experience starting this fall at Bakersfield City School District and Greenfield Unified School District. These are the first special education credential residency programs to be offered in Kern County.
"We're happy to have this opportunity to impact schools in a way that's positive and brings working with students with disabilities to the forefront," said Dr. Sarana Roberts, director and assistant professor of the special education program at CSUB. "Being able to provide teachers who will be more qualified to serve in that capacity is very exciting for our candidates, our district partners and the community at large."
During the one-year program, residents will teach special education students three days a week, with the assistance of a mentor from their respective school district. Residents will spend Thursdays and Fridays in their own classes and will also have the option to work as substitutes.
Interested students need to apply at https://www.calstate.edu/apply for the special education credential program by May 23 in order to be eligible for one of the residencies, which will be offered to 10 to 15 students per school district. Each student will receive a stipend of $23,000 from the school district they join to help cover tuition while they are in the program. All programs are accredited by the California Commission on Teacher Credentialing (CCTC).
"We're looking for people who really have a heart for this, who are enthusiastic about working with children with disabilities and are really dedicated to that kind of work," Roberts said.
One of the main goals of the residencies is to help address a widespread shortage of credentialed special education teachers that began prior to the start of the COVID-19 pandemic, which has only made the deficit worse. After completing their residency, students will have the opportunity to be hired by the school district they chose.
Dr. Roberts said if the programs are successful, they plan to offer them every academic year. She hopes students who participate in the programs will go on to become mentors themselves for future residents.
"We want to create this cycle where our residents are learning, growing and giving back so that we always have mentors who are qualified to serve our residents," she said.
As a special education professor at CSUB, Dr. Yeunjoo Lee says the new residency programs puts the University in a position to be a leader in teacher education, not only in the Valley but across the state. "There are very few residency programs like this focusing on special education," she said. "This is a really great model that will help CSUB be recognized for producing highly qualified special education teachers in this area."
The Special Education Program at CSUB helps to prepare special education teachers who can work effectively with students with Mild to Moderate Support Needs (MMSN) and Extensive Support Needs (ESN). CSUB offers the following programs at its Bakersfield and Antelope Valley Campuses: Preliminary Education Specialist Credential Program and Master of Arts (M.A.) Degree in Education, specializing in Special Education.
For more information about the residency programs, visit csub.edu/specialed.